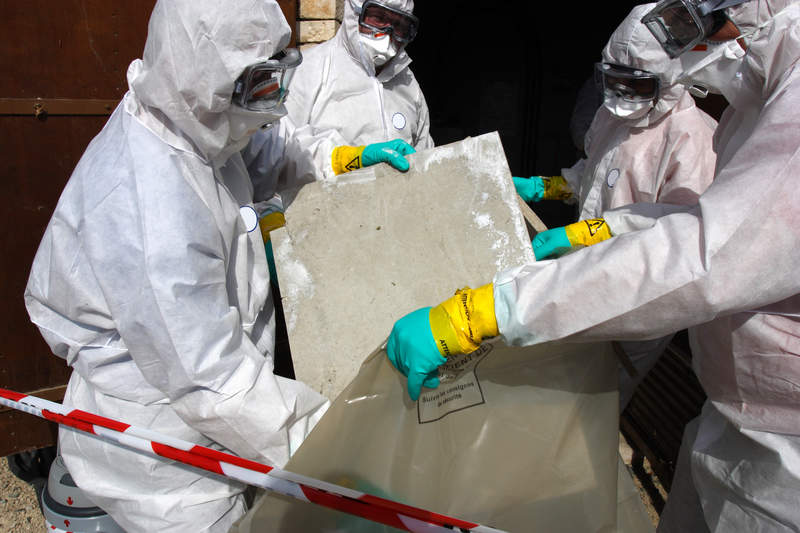 Alberta is a province full of DIYers who aren't afraid to get their hands dirty. It's one of the greatest things about Albertans, but it's important to recognize when you're in over your head. We hear from many homeowners who are wondering what exactly is involved in safely disposing of asbestos, so in this article we'll try to address just a few of the necessary steps for keeping our team and your family safe while removing asbestos.Asbestos is dangerous and scary in several ways. One of the most frightening challenges that come with working with asbestos is that symptoms (such as shortness of breath and lung cancer) simply don't appear until 40-50 years after the initial exposure. This means that unless you're working with a professional team, you can't know whether you safely disposed of the asbestos until your children are nearly ready to retire.
Shut Down the HVAC System.
One of the most important steps for safely removing asbestos is to shut down the HVAC system in the work area. This is because, while your asbestos removal team is going to do everything in their power to prevent dust, the moving air from your furnace or AC could spread any dust that does occur from the worksite throughout your entire home. By turning off the HVAC system in our work area, we prevent that from being possible. Beyond that, your team may use HEPA filters to create negative air pressure in the work area. This prevents air from moving from the worksite into the rest of the house.
Protective Clothing.
From respirators to disposable work shirts, gloves, and even underwear, your Calgary asbestos removal team takes the threat of asbestos very seriously. In the past, the spouses and children of asbestos miners often developed the same cancers and difficulty breathing as their working partner or parent. These family member were exposed to enough asbestos fibers just from the clothing worn by the miner to develop lung cancer and asbestosis. For the protection of our families, no clothing in the work area ever goes home.
Contain the Dust.
Drop cloths, huge sheets of plastic that completely cover doorways and windows, and moisture are all tools used by asbestos removers to keep dust contained and to a minimum. Thoroughly wetting down the material and ensuring it is kept damp helps to prevent dust from forming in the first place, but we'll also carefully seal off the work area, so that any dust that is created is safely contained. When we've finished removing the asbestos, we'll package it up and clearly label it. Finally, we'll perform an air test before anyone not wearing protective gear will be allowed in the room(s). This test measures if any (and how many) asbestos particles are suspended in the air, so we can ensure the room is safe.
Removing asbestos safely is a big job. There a many safety regulations that must be abided by to protect our workers, your family, and our families. If you're planning a renovation in your home, the City of Calgary requires that you have the worksite tested for asbestos. The experts at Amity Environmental would be happy to test your home and remove the asbestos if any is found. Contact us today to schedule your asbestos test.