At Amity Environmental, we work with things that most people don't want to go near. And it makes sense that the average layperson would rather have us deal with the mould and asbestos in their home. After all, when people are exposed to high concentrations of mould or asbestos (or both!), they often end up very ill. The fact is mould and asbestos are scary stuff, so it's important that you don't have either in your home.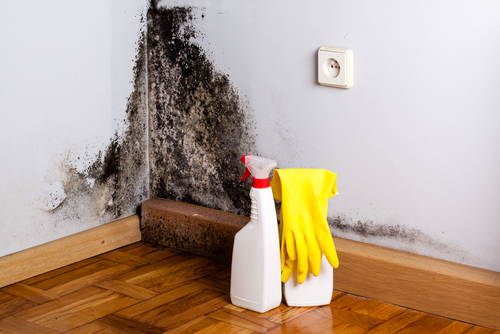 What Makes Mould Scary?
There are hundreds of thousands of varieties of moulds. Many cause allergic reactions in people, others produce mycotoxins with deadly effects, some are completely benign other than structural damage. But the scariest thing about mould is just how sneaky it can be.
Mould can spread into attics or between walls. Homeowners may have no idea why they're constantly ill with a cough and runny nose as mould spreads hidden behind the paint and drywall. And less dangerous moulds often break down wood and other food sources enough that nastier moulds like the notorious black mould can move in.
Beyond that, mould is really hard to get rid of. Because mould spreads using a network of invisible root-like mycelium, it's very challenging for homeowners to get rid of mould themselves. Even a little bit of the invisible mycelium will allow a brand new colony of mould to grow all over again.
What Makes Asbestos Scary?
Up until the 80s, asbestos was found everywhere. In homes built during or before the 70s, it's very likely that asbestos is present in the insulation, floor tiles, ceiling, or other materials. The problem with asbestos is it comes in so many forms that it's nearly impossible to recognize by sight. Once an asbestos-containing material is installed into a home, it's impossible for a new homeowner to identify the asbestos. All the same, if that material becomes cracked, chipped, or damaged in anyway, it could potentially release life threatening fibers. What's worse is that if asbestos fibers are being released into the air, you and your family members won't begin to show symptoms of serious illness for another 40-50 years.
Exposure to asbestos causes a particularly nasty cancer of the lung, and (unlike many other cancers) the prognosis for those diagnosed with mesothelioma has not improved significantly over the years. In other words, asbestos is a silent killer that many homeowners may not realize is in their house.
At Amity Environmental, our job is to protect Calgarians from the dangers posed by asbestos and mould. With a little education, it's possible to protect your family from the risks. Simply get your home tested for mould periodically and make sure to have an expert check your home for asbestos before doing any renovations or demolition work. Mould and asbestos can be scary, but they don't have to be. Work with the professionals at Amity Environmental by calling us today at 403-667-8264!