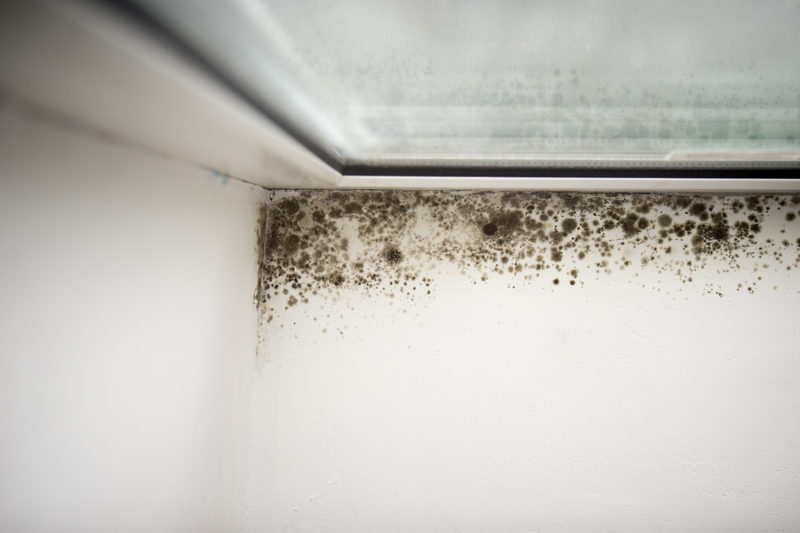 While the hot summer months bring the most precipitation to Calgary, that doesn't mean that you don't need to worry about mould during the winter. It's true that the constant heat from the furnace tends to leave Canadian homes extremely dry, but not all rooms are going to give you a nosebleed. Regardless of whether it's raining, snowing, or sunny, Calgary homeowners should be on the lookout for mould.
Kitchens are often quite open nowadays. This means that steam from cooking and washing dishes can disperse to the rest of the house freely. In some ways this is good. There won't be as high a concentration of humidity trapped in the kitchen, but it also means mould problems could be nearly anywhere. To prevent mould from everyday kitchen tasks, it's a good idea to turn on your kitchen's fan or range hood. If your kitchen doesn't have any ventilation, we definitely recommend having a professional install some. In the meantime, after you cook, open a window for 2 minutes. That will help to circulate air and get rid of the worst of the moisture cloud.
Laundry Rooms commonly have mould problems. This is especially true for basement laundry rooms with no ventilation where any amount of clothing is hung to dry. The water in your clothes has to go somewhere, and if the clothing is hung in a windowless, ventless room, then that moisture goes into the walls and floor where mould grows. We do not recommend hanging clothes to dry in any room without proper ventilation. Instead, use a dryer or hang clothing outside.
Bathrooms are the room that most frequently have mould problems. This makes a lot of sense. Between the toilet, the sink, and the tub or shower, there is a lot of water in the bathroom. If you have a large household and one bathroom, the chance of mould is even greater as there will be steam from every single shower (or bath) all contained in one room. As always, we recommend you have a fan or vent in your bathroom. Run the fan whenever someone is showering or bathing and for 30 minutes after they've finished. If there is no fan, you should definitely consider installing one and open a window in the bathroom for at least 5 minutes after each shower or bath. We know it's cold outside, but a bit of cold air is better than mould growing in your walls.
At the end of the day, preventing mould growth in your home during the winter is pretty much the same as preventing mould growth at any time. You need to control for humidity. The main complication is that Albertans are less willing to open their windows during the middle of January — which we completely understand. The easy alternative is to just get proper ventilation in all rooms with lots of moisture.
Are you too late for mould prevention? Do you smell rot or mildew in a room any time the humidity is high? You'll need the Amity Environmental experts to come test you home for mould and have it removed. Phone us today.