At Amity Environmental, we tend to think that any mould is too much mould. After all, many species of mould release mycotoxins, and the others can still cause severe allergic reactions or even fungal infections. Mould also weakens the overall structure of your home as it eats away at the 2x4s and drywall. However, mould infestations can be quantified.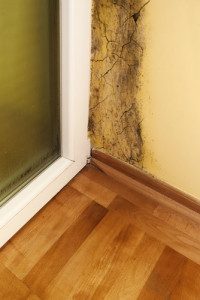 Small. The Canadian Mortgage and Housing Corporation (CMHC) describes any home with 1-3 patches of mould all of which are less than 1m2 as having a small amount of mould. Just because an infestation is classified as small, however, doesn't mean it can just be left alone. Fortunately, if you've caught the mould at this stage, you may not even need our help. First you'll need to locate where its water or humidity source is. It may be a leaky roof or pipe, it could be condensation on the wall, it could humidity from the shower, or any number of other things. Once the water source is found, it must be fixed. That might mean calling a plumber or a roofer, it may mean installing a fan or vent. Once moisture is not long a problem, take a damp rag (the drier the better) and soap (not bleach!) and scrub away any visible mould. Use a towel to keep the now mould-free surface as dry as possible. With the water supply gone, it should hopefully not come back.
Medium. To be classified as a medium infestation, the CMHC has outline two possible options. There must be either more than 3 patches or 1 of the patches must be larger than 1m2. If any patch is larger than 3m2, it is automatically treated like a large infestation. Medium infestation are on the cusp between small and large. You may be able to deal with the problem yourself by cutting off the moisture supply and cleaning up, or you may need professional help. With this size of infestation, it's very likely that there is more mould hidden behind the walls or paint. There will likely also be some sort of water damage since this much mould will have need a large supply of moisture. Whether you try and tackle this one yourself or not, it may be a good idea to give us a call just to make sure all the mould has been found and cleaned properly.
Large. A large patch is bigger than 3m2. While CMHC suggests that a skilled cleaner and DIYer may be able to handle the medium infestation, a large patch simply requires professional know-how. The drywall is likely not salvageable and will need to be removed. The 2x4s and insulation hidden behind it may also be contaminated. And the infestation may be spread through many rooms and hidden to layperson eyes. As with any mould situation, finding the water source and stopping it will be one of the most important jobs. Removing mould is futile without also preventing it from ever coming back.
If you've found mould in your Calgary home, it might be nice to quantify it as a small or big problem. Just remember that small problems become medium problems pretty quickly and that large problems are never far behind. For expert mould removal advice and services, call Amity Environmental today at (587) 892-7920.