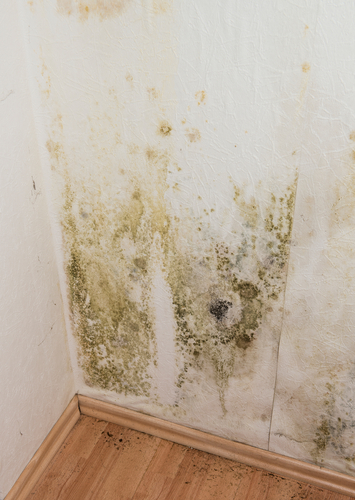 Some people think that if mould appears on the walls of their house the simple solution is to attack it with bleach mixed with water and that will take care of the problem. While doing that might kill surface mould, it doesn't deal with the reason why mould is growing in the first place and dead mould is just as dangerous as living mould.
Mould will grow anywhere there is food and enough water.
Mould spores settle on every surface in our homes and as soon as there's enough moisture present, for example from a leaky pipe or in an unventilated bathroom or laundry room, it can start to grow. Our homes are full of food that will support mould growth – paper backing on drywall (that's why mould often starts to grow on walls), dust, spilled food, pet dander, and insect parts. Once there's enough moisture present, mould will start to grow.
The only way to effectively deal with mould growth is to prevent it from happening in the first place. It's not enough to merely remove the visible mould growing on walls or other surfaces in a home. If you remove it without eliminating the sources of moisture that make it possible for it to grow, it will likely come back.
Mould growing on hard surfaces can be scrubbed off with a brush and detergent. Don't simply paint over mould because the paint will eventually peel off and it won't prevent mould from growing. If materials like drywall are water damaged, they should be replaced. If mould grows on porous materials such as ceiling tiles or carpeting, they need to be removed and disposed of.
Once identified, the source of the moisture that's making it possible for mould to grow must be eliminated. That might be a leaking pipe in a wall, an HVAC unit that's not working properly, a poorly ventilated attic, or a damp basement wall. If you don't eliminate the source of moisture, you'll have a recurring problem with mould in your house.
If you have visible mould growing in your home or you're concerned that it may be hidden away in your walls or attic, contact Amity Environmental in Calgary for an inspection and if necessary, removal.
This article was written by Jason Rorke. Visit Jason on Google+