Moulds are all around us. They're in the air we breath, in our homes, in our food, even in our medicines. While it's pretty easy to throw out food when it goes bad and the level of mould spores outside is rarely problematic, when moulds begin to grow indoors there can be some serious problems.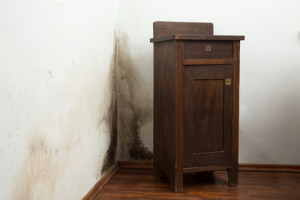 Depending on how dangerous they are to humans, moulds are divided into several hazard classes. However, it's important to remember even moulds in the least dangerous hazard class can cause structural damage and should be removed as soon as possible. Moulds come in a variety of colours, and it's necessary to have an expert tell you whether a mould growing in your home poses immediate risk or not.
Hazard Level A poses the highest level of risk to people. These fungi should never be allowed to exist within a dwelling because their very metabolic processes produce toxins that are dangerous to people. There are many common varieties of level A moulds. Aspergillus fumigatus, a mould that comes in a large variety of colours and is most commonly found in kitchens and bathrooms. The infamous black mould more formally known as stachybotrys chartarum, does indeed appear black and usually forms on wall paper.
Hazard Level B are most dangerous to those who suffer from allergies or asthma. However, given time and exposure, a mould in the hazard level B will make most people sick. Level B moulds like black mould can also be found in wall paper. However, some variety like aureobasidium pullulans also appear black, but are found in carpets and mattresses more commonly. Another common level B mould is penicillium chrysogenum which was the original source the first antibiotic penicillin. While penicillin is a useful chemical in the medical world, it should not be left to grow in your home.
Hazard Level C is the most benign. They aren't known to pose any risks to healthy people, but in young children and those that suffer from respiratory weakness there may be complications. Also, like all moulds, they will cause damage to the surface they are growing on. Ulocladium botrytis and chaetomium globosum, both commonly found in kitchens and bathrooms, are moulds of this level.
Moulds from all levels often resemble one another. The only way to know which sort of mould is growing is to consult an expert. If you have problems with mould, contact Amity Environmental today at (587) 892-7920.